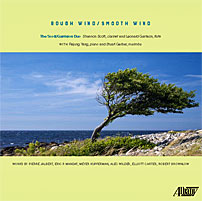 Released in August 2018 on Albany Records, Rough Wind/Smooth Wind features the Scott/Garrison Duo with Rajung Yang, piano, and Stuart Gerber, marimba. The CD includes world premiere recordings of Robert Brownlow's Bric-a-brac, Pierre Jalbert's Triple Set, Meyer Kupferman's Four Constellations, and Erik Mandat's Togetherness, written for the Scott/Garrison Duo. Also included are Elliott Carter's Esprit rude/esprit doux I & II and Alec Wilder's Suite for Flute, Clarinet, and Piano. 

David DeBoor Canfield wrote in

 

Fanfare Magazine: "They [the Scott/Garrison Duo] must certainly be counted among the foremost exponents of the music written for their particular combination (with or without piano or other instruments) … Scott and Garrison play, as do their colleagues, with utmost technical precision and musicality, as is their wont, and present all of these works in the best possible light." Available on Amazon.com, Google Play, and iTunes.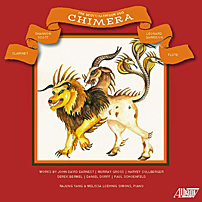 Released in November 2016 on Albany Records, Chimera features the Scott/Garrison Duo with Melissa Loehnig Simons, piano, and Rajung Yang piano. The CD includes Paul Schoenfeld's Sonatina and world premiere recordings of works by Derek Bermel, Daniel Dorff, John David Earnest, Murray Gross, and Harvey Sollberger. Colin Clarke wrote in Fanfare Magazine, "This is a wildly entertaining disc . . . There is much fun to be had with this impeccably performed and recorded disc; repeated listening reveals many layers beneath that surface. Recommended." Available on Amazon.com, Google Play, and iTunes.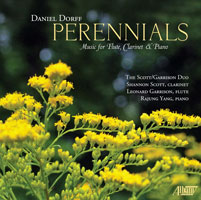 Released in February 2013 on Albany Records, Perennials presents works by American composer Daniel Dorff (see http://www.danieldorff.com). The Instrumentalist magazine calls this a "delightful CD" and wrote, "The Scott/Garrison Duo accompanied by Rajung Yang brings this music to life and sets the bar high for outstanding chamber music performance." Fanfare Magazine wrote, [Daniel Dorff's works] "are superbly executed by the Scott-Garrison Duo, whose pleasing tonal qualities, intonation, expressiveness, and wonderful musicianship are unwavering throughout the recital." Available on Amazon.com, Google Play, and iTunes.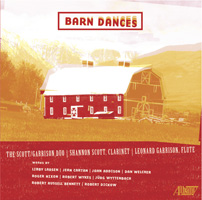 Released in December 2010, this CD with the Scott/Garrison Duo and pianist Jay Mauchley features première recordings of works for flute and clarinet. Fanfare Magazine wrote, "Shannon Scott and Leonard Garrison have put together an enticing recital of gems, all world premiere recordings, and every one of them a winner… In the hands of these two wonderful artists, more colors are evoked than one might believe possible… The consummate artistry and polished ensemble playing of the Scott/Garrison Duo as heard on this disc ought to win them many admirers." The Clarinet magazine said, "Throughout the CD, Scott and Garrison display agility and energy in their interpretations of these works. Their care in considering tonal quality and balance, coupled with acutely accurate intonation, contributes to the polished quality of each performance…Barn Dances is particularly notable for its confident and captivating performances." Available on Amazon.com, Google Play, and iTunes.